The 50pcs per min size 50mm to 125mm diameter high speed paper lid machine
Product Description
#detail_decorate_root .magic-0{border-bottom-style:solid;border-bottom-color:#aaaaac;font-family:Roboto;font-size:18px;color:#000;background-color:#b3b2b2;font-style:normal;border-bottom-width:2px;padding-top:8px;padding-bottom:4px}#detail_decorate_root .magic-1{width:750px}#detail_decorate_root .magic-2{overflow:hidden;width:750px;height:400px;margin-top:0;margin-bottom:0;margin-left:0;margin-right:0}#detail_decorate_root .magic-3{margin-top:0;margin-left:0;width:750px;height:400px}#detail_decorate_root .magic-4{width:300px;display:flex;flex-direction:column;margin-right:4px;margin-left:0}#detail_decorate_root .magic-5{font-size:18px}#detail_decorate_root .magic-6{width:446px}#detail_decorate_root .magic-7{overflow:hidden;width:446px;height:286.2472248493278px;margin-top:0;margin-bottom:0;margin-left:0;margin-right:0}#detail_decorate_root .magic-8{margin-top:0;margin-left:0;width:447px;height:286px}#detail_decorate_root .magic-9{overflow:hidden;width:446px;height:304.05278213716105px;margin-top:0;margin-bottom:0;margin-left:0;margin-right:0}#detail_decorate_root .magic-10{margin-top:0;margin-left:0;width:475px;height:304px}#detail_decorate_root .magic-11{width:300px;display:flex;flex-direction:column;margin-right:0;margin-left:4px}#detail_decorate_root .magic-12{overflow:hidden;width:446px;height:285.44px;margin-top:0;margin-bottom:0;margin-left:0;margin-right:0}#detail_decorate_root .magic-13{margin-top:0;margin-left:0;width:442px;height:283px}#detail_decorate_root .magic-14{margin-top:0;margin-left:0;width:447px;height:284px}#detail_decorate_root .magic-15{vertical-align:top}#detail_decorate_root .magic-16{vertical-align:top;display:inline-block;padding-right:4px;width:50%;box-sizing:border-box;margin-bottom:-4px;padding-left:0;margin-top:-4px}#detail_decorate_root .magic-17{vertical-align:top;padding-bottom:4px;box-sizing:border-box;padding-top:4px}#detail_decorate_root .magic-18{width:375px;height:372.78709055876686px;overflow:hidden}#detail_decorate_root .magic-19{position:relative;left:0;top:0;width:375px;height:375px}#detail_decorate_root .magic-20{vertical-align:top;display:inline-block;padding-right:4px;width:50%;box-sizing:border-box;margin-bottom:-4px;padding-left:0;margin-top:-4px;margin-left:-3px}#detail_decorate_root .magic-21{width:364px;border-collapse:collapse}#detail_decorate_root .magic-22{min-height:18px;padding:5px 10px;width:133px;min-height:18px;box-sizing:content-box}#detail_decorate_root .magic-23{min-height:18px;padding:5px 10px;width:199px;min-height:18px;box-sizing:content-box}#detail_decorate_root .magic-24{min-height:18px;padding:5px 10px;width:133.4px;min-height:18px;box-sizing:content-box}#detail_decorate_root .magic-25{min-height:18px;padding:5px 10px;width:198.8px;min-height:18px;box-sizing:content-box}#detail_decorate_root .magic-26{width:750px;border-collapse:collapse}#detail_decorate_root .magic-27{min-height:18px;padding:5px 10px;width:716px;min-height:18px;box-sizing:content-box}#detail_decorate_root .magic-28{display:none}#detail_decorate_root .magic-29{min-height:18px;padding:5px 10px;width:127px;min-height:18px;box-sizing:content-box}#detail_decorate_root .magic-30{min-height:18px;padding:5px 10px;width:273px;min-height:18px;box-sizing:content-box}#detail_decorate_root .magic-31{text-align:center}#detail_decorate_root .magic-32{min-height:18px;padding:5px 10px;width:421px;min-height:18px;box-sizing:content-box}#detail_decorate_root .magic-33{min-height:18px;padding:5px 10px;width:272px;min-height:18px;box-sizing:content-box}#detail_decorate_root .magic-34{display:table-cell}#detail_decorate_root .magic-35{min-height:18px;padding:5px 10px;width:128px;min-height:18px;box-sizing:content-box}#detail_decorate_root .magic-36{overflow:hidden;width:247.33333333333334px;height:152.72833333333335px;margin-top:0;margin-bottom:0;margin-left:0;margin-right:0}#detail_decorate_root .magic-37{margin-top:0;margin-left:0;width:247px;height:152px}#detail_decorate_root .magic-38{overflow:hidden;width:247.33333333333334px;height:152.20512820512823px;margin-top:0;margin-bottom:0;margin-left:4px;margin-right:0}#detail_decorate_root .magic-39{margin-bottom:10px;overflow:hidden}#detail_decorate_root .magic-40{vertical-align:top;display:block;padding-right:4px;box-sizing:border-box;padding-left:4px}#detail_decorate_root .magic-41{padding:0;margin:0;white-space:pre-wrap;font-size:14px}#detail_decorate_root .magic-42{overflow:hidden;width:750px;height:400px;margin-top:0;margin-bottom:4px;margin-left:0;margin-right:0}#detail_decorate_root .magic-43{overflow:hidden;width:373px;height:186.5px;margin-top:0;margin-bottom:0;margin-left:0;margin-right:0}#detail_decorate_root .magic-44{margin-top:0;margin-left:0;width:373px;height:186.5px}#detail_decorate_root .magic-45{overflow:hidden;width:373px;height:186px;margin-top:0;margin-bottom:0;margin-left:4px;margin-right:0}#detail_decorate_root .magic-46{overflow:hidden;width:373px;height:400px;margin-top:0;margin-bottom:0;margin-left:0;margin-right:0}#detail_decorate_root .magic-47{margin-top:0;margin-left:0;width:373px;height:400px}#detail_decorate_root .magic-48{overflow:hidden;width:373px;height:400px;margin-top:0;margin-bottom:0;margin-left:4px;margin-right:0} Product Description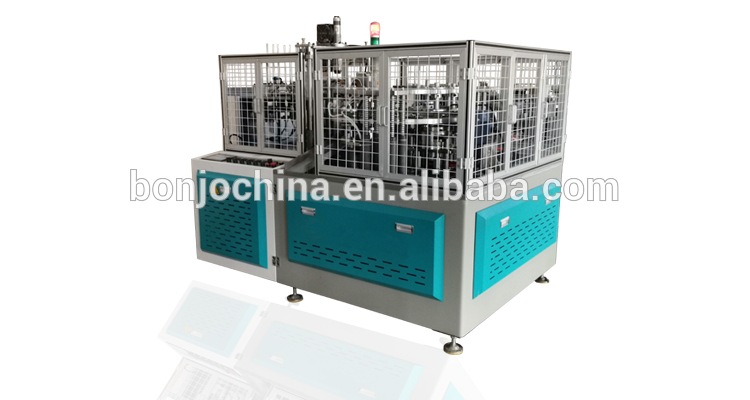 Detailed Images
Paper feeding BJ-PC125 is the newest design which is popular in domestic and abroad. Machine with steady body frame which is constructed by iron plates. The raw material is pe coated paper, need ultrasonic to seal.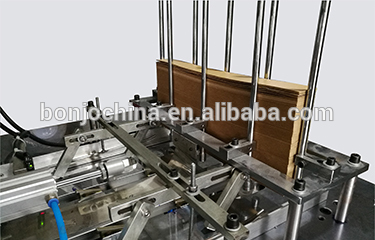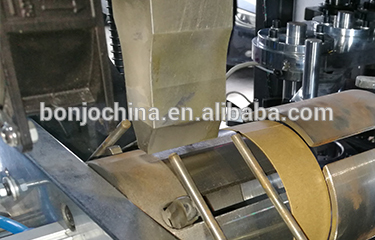 Ultrasonic section The ultrasonic head is controlled by the Delta brand PLC which similar as paper cup process, need to seal first.
Paper molding section Working process as punch bottom, bend bottom, knurling, top paper feeding, top hemming.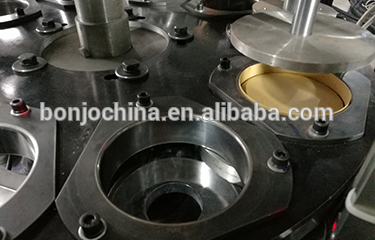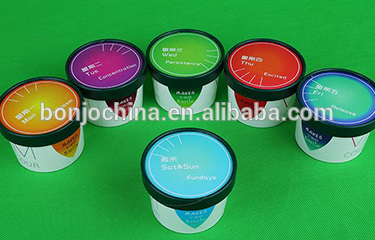 Sample picture
BJ-PC125 Paper lid machine makes covers are widely used for ice cream cup, soup cup, coffee cup etc. It is the latest lid forming machine from our factory which is no need pipe cutting, pipe forming, no need hot melt glue. It is full automatic working by feeding of sheet.
Product Presentation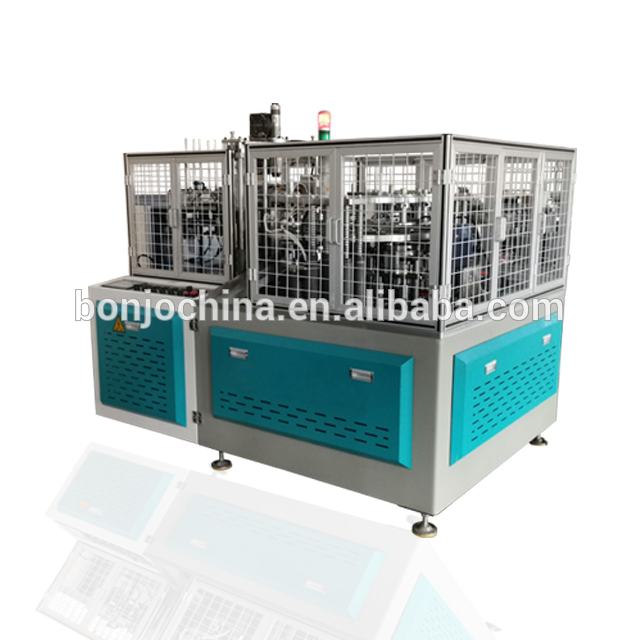 | | |
| --- | --- |
| | ¢60-125mm |
| Paper Material | Single PE cotated paper, weight 180--400 gsm |
| Rated Productivity | 35---50 pcs / Min |
| Power | 5KW |
| | 220v / 380v 50hz |
| | 2.1X1.5X1.8M |
| | 0.4MPa, 1m3/min |
Certificate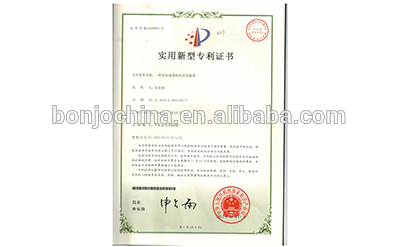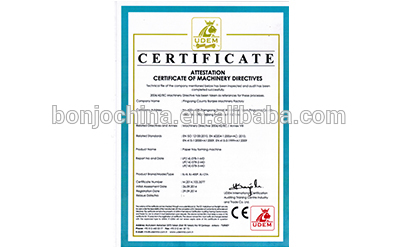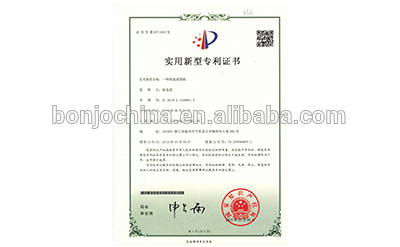 Related Products Company Introduction Bonjee Machinery, the maker of automatic machinery for paper plate and take away box, paper cup machine, paper lid machine, etc. Pingyang Bonjee Machinery Co., Ltd is a professional manufacturer of all types of food box automatic forming machine, disposable paper plate automatic making machine, integrating development and production together. Our export company is Wenzhou Unitely Imp and Exp Co., Ltd. Our main products include all paper product related machinery. Our company was established in 2006, we have many years of history in the machinery, and we have patent. We located near Ruian, enjoy very convenient transportation. Our company promises: reasonable prices, short production time and satisfactory after-sales service, we hope to cooperate with more customers for mutual development and benefits, also welcome potential buyers to contact and visit us.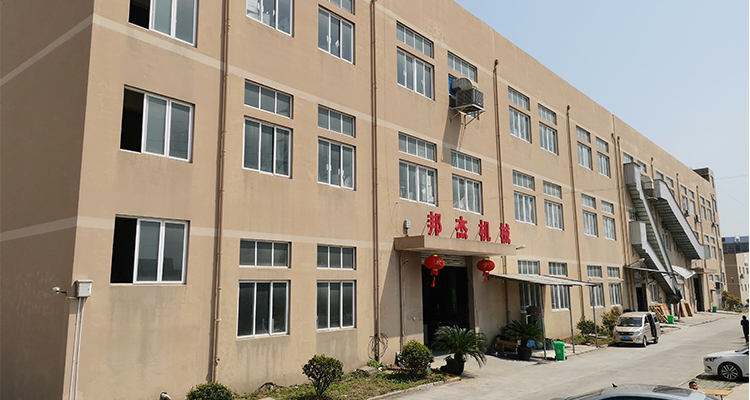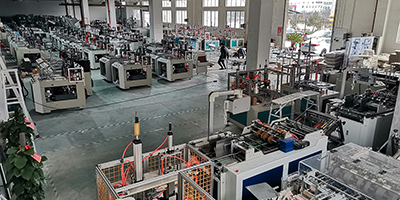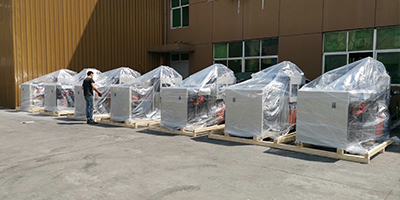 Packing&Shipping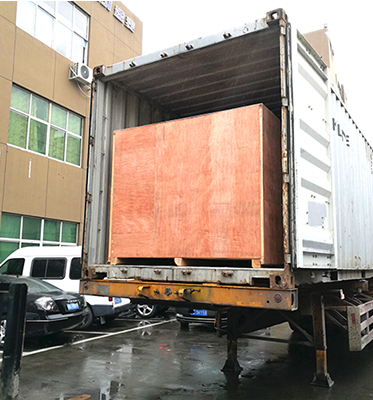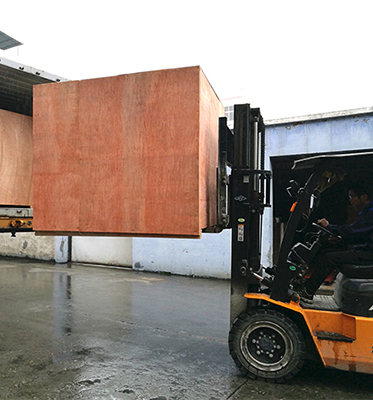 FAQ FAQ
Q1. What Kinds Of Lid Can Be Made By Machine ?
PE coated paper
Q2. What Is The Packing Way Of The Machine?
Usual , With wooden cases packing.
Q3. What Is The Machine Delivery Time ?
As usual, 35 days shippment after received your deposits.
Q4. How About The Machine Guarantee?
One year. During this period, any parts damaged caused by machineself, the seller will repair/replace the spare parts for free. After one year, the seller will supply the spare parts to buyers as the cost. The machine service is all around the machine life.
Q5. What About The Machine Installation And Training ?
If customer request, we will send our technician to install and train operation, but all costs should be covered by buyer. (
including getting visa, 2-way air tickets, food. Hotel. Local traffic, translator, salarys ).
Q6.What Is The Terms Of Payment ?
By 100%T/T , 30% of deposits should be paid in advanced, then 70% of balance should be paid before shippment. or L/C at sight, both are ok .
Q7. What About The Whole Produce Line For Paper Lid Making?
The whole produce line include the printing machine, slitting machine, paper lid forming machine, packing machine , any interested ,welcome to ask me freely.
Welcome to contact with me freely or send me the inquiry if you are interested in our machine. Contact us if you need more details on paper lid machine. We are ready to answer your questions on packaging, logistics, certification or any other aspects about lid making machine、paper lid machine. If these products fail to match your need, please contact us and we would like to provide relevant information.
Product Categories : Paper Lid Making Machine